Imagen, Audiovisuales y espectáculos
ESSAY ABOUT
ALMODOVAR
Module SO3015
A Brief commentary of his Biography:
The most internationally acclaimed Spanish filmmaker since Luis Buñuel was born in a small town (Calzada de Calatrava) in the impoverished Spanish region of La Mancha. He arrived in Madrid in 1968, and survived by selling used items in the flea-market. Almodovar couldn't study filmmaking because he didn't have the money to afford it. Besides, the filmmaking schools were closed in the early 70s by Franco's government.
Instead, he found a job in the Spanish phone company and saved his salary to buy a "Super 8 mm camera".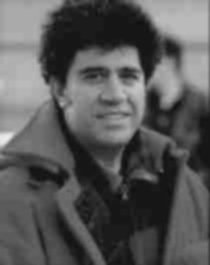 From 1972 to 1978, he devoted himself to make short films with the help of his friends. The "premieres" of those early films were famous in the rapidly growing world of the Spanish counter-culture. In a few years, Almodovar became a star of "La Movida Madrilena", the pop cultural movement of late 70's created by the town-council with the purpose of giving to the young people an alternative behaviour out of alcohol and drugs (it was unsuccessful but very popular). His first feature film, Pepi, Luci, Bom and Other Girls on the Heap (1980), was made in 16 mm. and blown to 35 mm. for public release.
In 1987, he and his brother Agustin Almodovar established their own production company: El Deseo, S. A. The "Almodovar phenomenon" has reached all over the world, making his films very popular in many countries.
Appearing out of Madrid at the end of Franco's regime over Spain, Pedro Almodovar has created a series of films that most clearly define him as a true author. What Almodovar represents is true definition of what an artist is: someone completely devoted to his vision, free of any forces. The fact he writes, directs, and produces every film he is involved in attests to this feeling of him as a true artistic visionary. Perhaps what sets Almodovar apart from other filmmakers is his attention to every aspect of what makes cinema a complete experience.
He has not been only a Director but has a long career as Director, Writer, Actor, Producer, Composer and Production Designer. He has written the script of most of his movies. He began his career in 1974 as a Director and Filmography Writer with the movie Film Politico, is a Comedy about the political system during the end of Franco's regime.
His Movies
From Almodovar is characteristic his attention to every detail, but another characteristic is that all his films are different from the rest of his movies. When he is writing the script he uses a single idea and then he begins to create a background around that idea, that help him to make different kinds of films.
In all his movies there is one thing similar, and it is that in his movies the main character is always female, something happens with the mother of somebody. The Character are strange people leading by their passions and their insane minds. In his movies he is trying to project how he sees the Women's World. The film Women on the Verge of a Nervous Breakdown is the most representative of this kind of movie. His vision about women is not the "typical" weak woman, or the strong woman who fights against the world, it is a "natural" point of view. There are many women and each one is different, that's why all his films are different.
His films are sometimes strange, difficult to understand, funny, amazing, scaring and all this stuff at the same time. As he says he wants to show how is the real life, and real life is sometimes strange, difficult to understand, funny, amazing, scaring and all this stuff at the same time, as someone said long time ago "Life is a tragi-comedy".
Most people think this way, but there are other people who do not agree with his kind of films. They said that he is Overvalued and a Promocionated Director. His way of make movies is like a children's way, with a background tacky, a lot of colours, strange characters in the film, that seems more a nightmare than other things. But even the people who thinks this way, say that he knows how to run a film, and how to reveal in the people the feelings he wants to show.
He is the Director of many movies and all of them are about different topics This is his filmography.
Descargar
| | |
| --- | --- |
| Enviado por: | P Escartín |
| Idioma: | inglés |
| País: | España |
---