Lenguaje, Gramática y Filologías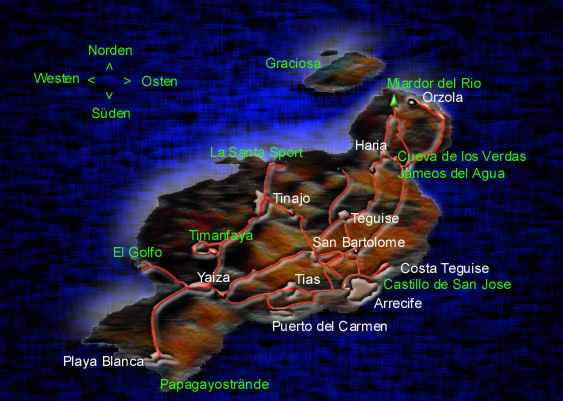 INTRODUCTION:
I am going to speak about Lanzarote and its municipalities. In each one you can find typical places to visit, beaches, gastronomy, climate, accommodation and some activities that you can do in your free time while you are there.
On these pages you can find information about the history of the island and the gastronomy.
LOCATION:
Lanzarote is in the Canary Island; this archipelago is at Westsouth of Spain. Around of Lanzarote is other island like La Palma, Tenerife, La Gomera, Hierro, Fuerteventura and Gran Canaria.
From North to South Lanzarote occupies 60 kilometers and from East to West occupies 20 kilometers approximately.
Lanzarote holds seven municipalities: Arrecife (the capital), Haría, San Bartolomé, Teguise, Tías, Tinajo and Yaiza.
HISTORY:
This island is call Lanzarote because on the second part of XIV century disembarked a man called Lanceloto Malocello.
MUNICIPALITY OF HARíA:
Interesting places to visit:
Mirador Del Rio:
This spectacular site is at the North Cape of the island. César Manrique ordered build a restaurant with two domes, then he covered with earth.
From this enclosed we can see the archipelago Chinijo (such us La Graciosa, Montaña Clara and Alegranza).
Jameos Del agua:
The Jameos were the first architectural tourist attraction, design by César Manrique too in 1968.
It is at the North of Lanzarote, at the foot of Monte de la Corona volcano that it is not eruption since 3000 years. When this volcano eruptioned formed one of the most interesting systems of caves and tubes of the world. Through the Jameos we can se the route of the volcano tubes.
Then when the excursion finishes you can enjoy in the swimming pool sunbathing and drinking a milkshake next to the bar.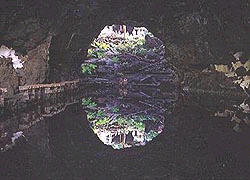 Cueva de los Verdes:
It is at the Southeast of Monte de la Corona Volcano, it belongs to an underground tubes systems about 6 Kilometers. This is one of the most interesting volcanic formation of the island and one of the larger volcanic tubes in the world.
This is an important site for the people who live in the island too because many years ago they used it for hide of the pirates attack.
Beaches:
El Caletón Blanco: Is completely full of white and fine sand mix with volcanic rock forming lakes. You can camp too.
El Risco: With white and gold sand too this beach is only accessible by foot. This beach is very windy.
Caleta: It is like El Risco.
La Garita: Situated in Arrieta you can practice Surf or Windsurf.
MUNICIPALITY OF TEGUISE:
Interesting places to visit:
El jardín de los Cactus:
It is one of the last work of César Manrique create over an ancient quarry and convert in a genuine plantation of cactus. Near of this plantation there is a mill that some years ago it was grinding the grain.
There is a café where you can drink a drink.
Castillo de Guanapay:
It is over the mountain Guanapay. It was build by Sancho de Herrera like one privileged watchtower of the seaside.
In this castle there is many archives related with the Canarian emigration.
Beaches:
Las Cucharas: With 640 meters this beach is one of the favorite sites of the windsurfistas.
Los Charcos: This beach has white and fine sand, it is windy.
El Jablillo: Fine and white sand with grave in Costa Teguise, it is windy too.
Bastián: White and fine sand with grave too in Las Caletas.
Famara: 6000 meters of dark brown and fine sand. This beach is the favorite of the surfistas.
MUNICIPALITY OF ARRECIFE:
Interesting places to visit:
Museo de Arte Contemporáneo:
It inside of the San José Castle, strength builds from 1776 to 1779 by the order of Carlos III. César Manrique was named president of the museum because contributed with it giving some pictures.
This museum has a bar-café too for all the people who want to see the pictures and then rest a little.
Beaches:
El Reducto: Blue flag of the European Union. Its sand is fine and black brown.

El Cable: 315 meters of dark brown and fine sand from 2 kilometers of Arrecife.
MUNICIPALITY OF SAN BARTOLOMÉ:
Interesting places to visit:
Fundación César Manrique:
It is one of the biggest cultural center of the island, this site show us creates of César Manrique and his private collect of artist like Picasso, Miró, Chillida, Klee etc....
Beaches:
Guacimeta: Although (a pesar de que) the airport is near of that beach this one have 1.050 meters of white sand and many apartments inside the states. There is a restaurant, a newsstand, parking and a "Guagua"´s bus stop.

La Concha: 250 meters of dark brown and fine sand.

Playa Honda: 1900 meters of dark brown sand.
MUNICIPALITY OF YAIZA:
Interesting places to visit:
Parque Nacional de Timanfaya:
The park was form about 1730 to 1736 when the violent eruptions fill this zone.
You can see a big variety of geological phenomenons about volcanoes. The excursions to volcanoes are the best thing that you can do there. After this visit you can eat at the restaurant and buy a souvenir at the shop.
El Golfo:
This is the name of the crater that has a green lake. This color comes of the seaweed that lives on the surface. The sea passes through this crater and forms an spectacular black beach,
GASTRONOMY:
Cheese and wine are very important in the Lanzarote´s gastronomy.
The confectionery is very important too; the typical plates are Panes de maní and Roscos del Alma.
Some typical plates:
Soups and vegetable stew are in the first plate.
Mayonnaise and sauces accompany the delicious fish in the second plate.
Papa´s is always present in any Lanzarote plate. The most popular are "papa´s arrugadas", boil with water and a lot of salt. This plate is always serve with "mojo picón".
The ground is formed by porous material, what does it mean? It means that just a few times the water can arrive to the sea.
ACTIVITIES:
You can enjoy practicing some of these sports:
Sea Excursions: You can find these or others, principally, in Puerto del Carmen, Playa Blanca y Puerto Calero.
Golf: This is a sport with more practicing every day. For many years ago there is a club at Costa Teguise, with eighteen holes.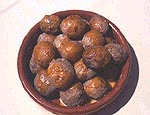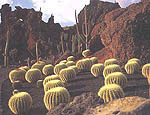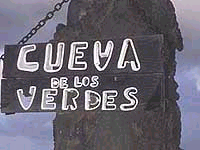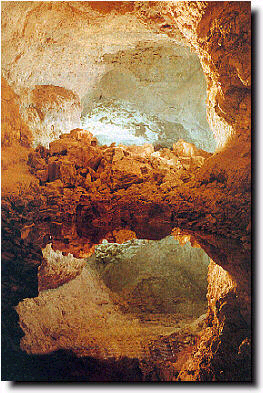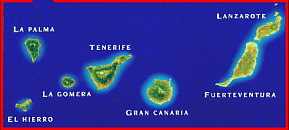 Descargar
| | |
| --- | --- |
| Enviado por: | Sara Llorente Navarro |
| Idioma: | inglés |
| País: | España |
---