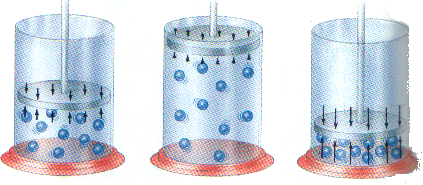 BOYLE'S LAW
OBJECTIVES
Describe in qualitative terms the effects of changes in pressure and volume on contained gases.

Calculate pressure or volume from the pressure - volume relationship of a contained gas at constant temperature.

PROBLEM

Variation between the pressure and volume.

HYPOTHESIS

The pressure and volume vary inversely proportional.

MATERIALS

A syringe

A graphic calculator

CBL

A pressure sensor.

PROCEDURE

Turn on CBL and the graphic calculator.

To program Chembio.

To put prove, channel, calibration, used stored in that order.

To press Triger in CBL after each measure bye the pressure sensor.

When you finish all measures to put in the graphic calculator "No repeat", first curve, and Power L1, L2.

DATA

The equation for calculate the heat released is:

P = pressure

V = volume

OBSERVATIONS

Table Nº1

Volume

(L)

Pressure

(Kpa)

2.5

179.87

5.0

101.18

7.5

72.45

10.0

56.21

12.5

46.22

15.0

38.72

17.5

33.73

ANALYSIS

CONCLUSIONS

When the pressure goes up, the volume goes down.

The relationship between pressure and volume is inversely proportional.

The product of volume and pressure at any two sets of conditions is always constant at a given temperature.

Pressure increased when volume decreased because the gas molecules have minor space and the container received most fight by the molecules inside its.

The collision of the particles in a gas with the walls of the container is gas pressure.

The pressure in the container increases in proportion to the number of gas particles inside its.

The gases' constituent corpuscles stand still always they are in contact whit others.

The gases' constituent corpuscles can compress them, this one explains their capacity for to decreased the volume when a exterior pressure affects them.

The volume of a container easily accommodates whichever number of particles.

The mechanics process in a laboratory make, sometimes, we obtain wrong answers.



Descargar
| | |
| --- | --- |
| Enviado por: | El remitente no desea revelar su nombre |
| Idioma: | inglés |
| País: | Estados Unidos |
---