Turismo, Hostelería, Gastronomía y Restauración
Introduction
Ireland is located in the smallest island of the United Kingdom. Ireland is a slightly mountainous island. The few mountains that it has are located along the coast, so you can enjoy a wonderful landscape looking at the majestous cliffs that grow skirting coast. One of the most impressing characteristics of such a mystical country is the contrast between the wildness of the coasts mentioned before, and the soft green landscape of the rest of the country.
Irish people are one of the civilisations that have conserved better the Celtic culture, which in many other countries the Roman invasion replaced. Catholicism is another very important cultural characteristic. Irish have been very proud of its religion for ages. They have been fighting against English, that are protestants, for the control of the north of the island.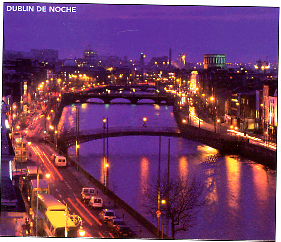 About the culture, the most important features are that all the people of all ages, go to church every Sunday. And every person in the country drinks beer.
Around Dublin and Ireland
Founded in 1977, Mystic Tours Ireland, operated by Dublin city is the only privately owned, Government Licensed Sightseeing Operation, offering scheduled daily departures from Dublin, and guaranteeing to run regardless of numbers. From our extensive menus of Day and Half Day Tours. We have the flexibility of Tailormaking and extended tour to suit your time and budget. So should you wish to visit Glendalough in Co. Wickclow on the East Coast today, and tour the Ring of Kerry in the South West tomorrow, call us, or better still, call into see us. While you wait we will create an itinerary to suit your specification, no prior bookings necessary.
The dates will have to be asked in the travel agency.
AIRLAND LINES offers a great number of short trips (between two full days and a week) for young people, in which you will surely be interested in.
We organise some journeys to the places of the country that more interest you, and also organise expeditions for students where you can improve your English level, we offer also other possibilities such an enjoyable week in Dublin...
Our Prices include:
-The flight tickets to go and return in regular flights with 20 kg of luggage.
- Lodging in the indicated hotel, 3, 4 or five stars depends on the choice of every program. Rooms with bath or shower.
-Spanish guide (although he/she could be native) who will fly with you from Spain and return with you
-Visits to the indicated cities done by Native Companion Guide, which don't have to come with you from Spain.
Optional visits aren't part of us so we refuse any responsibility on them.
-A coach from the airport to the hotels on arrival to the place.
-Trip insurance, and luggage insurance on the flying trips.
Here you have the plan for the full week trip, so that you can see the great number of possibilities we are offering to you, but remember that we can plan the best holiday for you. YOU HONLY HAVE TO VISIT US .
Itinerary:
1st day:
The first day you will take the plane at your city airport,
if it is in Barcelona you have to be there at 12 o'clock in the morning, as the plane takes off at 1:30 p.m.
if it is in Madrid you have to be in the airport at 2 a.m., as the plane takes off at 3:30p.m.
Then you will take the plane which will fly direct to Dublin's airport. There, a bus will take you to Galway centre from where you will go to your emplacement to stay, hotel californication, beach hotel, or grandma's guest house.
Then you wil have free time to do whatever you want, if you are tired you can rest in your room, or if you have enough energy, you can doy a simple visit to the city.
2nd day
For the second day we have planed a visit to Athenry
Athenry , about 20 km east of Galway city, is a town steeped in the history of the country. After the Norman conquest in 1235, Meiler de Birmingham built his castle here by the ford on the river Clareen, and founded the medieval town of Athenry, surrounding it with towers and a moat. Today, Athenry contains some of the finest remaining town walling in Ireland including five towers and a town entrance known as North Gate. The castle, surrounded by its own curtain wall and towers, had three phases of construction between the 13th and 15th centuries. It later fell into ruin, but has recently been re-roofed by the Office of Public Works. That's why we will visit it.
Nearby, stand the ruins of the Dominican Priory, founded in 1241 and eventually suppressed by the Cromwellians in 1652. It contains many interesting grave slabs and tombs including an impressive tomb of Lady Mathilda Birmingham (died 1788) with some fine, if rather rare stucco-work by Coade of London. So we will visit that also.
Rare also, if not unique in Ireland, is the 15th century "Lantern" type market cross in the town square . However, the market and fairs have now been replaced by a cattle-mark, the heart of this rich farming country, made famous by the popular song, "The Fields of Athenry".
This visit will be from 9 am to 6 p.m., you can take the lunch or buy it in Altherny,
· It would be good to bring the lunch, although you can buy it in Altherny.
Meeting place: Galway's traitor square Meeting time: 8:45 a.m.
Arrival place: Galway's coach station Arrival time: 6 p.m.
Place to visit: Athenry
3rd day:
The third day we've prepared you a panoramic tour to Dublin.
This fully guided panoramic city tour of Dublin gives you an overall flavour of our historic and ancient city. Enjoy the delights of Dublin's architecture, -Georgian streets and squares, the two Cathedrals- Saint Patrick's and Christchurch, the Guinness Brewery, a typical place of Ireland, and also characteristic of there, and much more. Savour the sights and sounds of Dublin's shopping streets and the vibrant Temple Bar area. As you travel your guide will inform and entertain you with stories of Dublin's many famous and lively characters, writers and musicians. You can join this tour whenever you want and return at the meeting return place, giving you the freedom of the city.
Meeting place: Galway's traitor square Meeting time: 9:45 a.m.
Arrival place: Galway's coach station Arrival time: 6 p.m.
Place to visit: Dublin
4th day:
The fourth day is free for everyone, these just mean that you can decide where to go, and with who, as we have not prepared anything, Galway is a beautiful place to visit, so you don't have to go so far.
5th day:
On the fifth day we will visit Cliffden,
Clifden, 78 km north west from Galway, is the largest town in Connemara and is regarded as its capital. Surprisingly, it is not and old town, being founded at the start of the 19th century by John D'arcy, the local landlord who lived in Clifden Castle, now a roofless ruin.
The Great Famine of the 1840's retarded the town's growth, but it has now become a most popular tourist centre. With its many fine hotels, guest houses and restaurants, it is the ideal base from which to tour the Beanna Beola mountains and the delightfully fretted coastline of western Connemara. Other areas of natural wilderness such as Big Frog Woods, 6 km south of Clifden, site of the former Marconi wireless station and where Alcock and Brown landed after the historic Trans-Atlantic flight of 1919, lie within easy reach of the town.
All the usual outdoors pursuits such as angling, bathing, mountaineering, painting, etc. are catered for here.
That means that there we will take a bicycle and make a little tour around, and maybe some painting if you want to try.
Some 6 km from Cllifden on the Galway Road visit Dan O'Hara's Homestead farm. This pre 1840 farm contains a cottage, cowbird, crannog (prehistoric lake dwelling) craft shop and tea shop. It is open April to September, Conemara Heritage Tours based in Market Street provided guided walking tours which introduced visitors in the unique landscapes and culture of Conemara. An added bonus to the tourist calendar is the Conemara Pony Show held each August as Clifden is the centre most associated with the breeding of these delightful animals, in September of each year, Cliden Arts Week adds gaiety and excitement to the autumn season and is well worth a visit, so if you go in that dates you sure will enjoy this place.
Meeting place: Galway's traitor square Meeting time: 9:45 a.m.
Arrival place: Galway's coach station Arrival time: 6 p.m.
Place to visit: Cliffden
6th day:
Visit to Carraroe
Carraroe is, perhaps, the main centre of the extensive Gaeltacht (Irish-speaking) area of South Connemara, so English wouldn't be very useful. It is one of the most important places promoting Irish culture involving both language, song and dace and, like many places in the district, organises Irish Summer schools for children from English-speaking areas. It is also a very popular holiday resort for Irish-speaking holiday makers from other parts of the country. It is the ideal base from which to explore not only its own peninsula wedged between Casla Bay and Greatman's Bay, but also the whole series of islands composed of Lettermore, Gorumna and Lettermullen, all joined by causeway to the mainland. There is an old world atmosphere to be found here, with endless winding boreens and high granite walls leading to now silent turf quays and deserted beaches.
So finally you will have the opportunity to visit the typical old town of Ireland which is this.
Meeting place: Galway's traitor square Meeting time: 9:45 a.m.
Arrival place: Galway's coach station Arrival time: 6 p.m.
Place to visit: Carraroe
7th day:
That is the last day you will spend in Ireland, at least with us, you have to stay ready at Dublin airport at 3 p.m. and remember we don't made responsible of bring you there.
· Optional visits we recommend you for the free days, or if you decided not to go to a guided visit.
Malahide castle and north Dublin half day
This tour takes you past the famous Abbey Theatre and out across The North city to the fortieth century Castle at Malahide. The Castle, which is set in magnificient gardens is furnished with the finest Irish period furniture and contains famous portrait paintings from the National Art Gallery. Continue to the award-winning village of Malahide, then trace the coastline to Howarth fishing village. Enjoy magnificent views of Dublin Bay from Howarth Head summit. Return to Dublin along the coast, via north city villages, whose lore and legend are recounted by your guide.
Newgrange special half day tour
This tour to the Boyne Valley brings us to one of Ireland's most ancient and historic areas. Some of Ireland's first inhabitants settled in this fertile valley and their traces can still be found today. You can visit the Sorry For All Visitor Centre, designed to interpret the rich archaeological heritage of the Boyne Valley, which includes the megalithic passage tombs of NewCher and Knowth. The tour continues at Newgrange, the oldest and largest Neolithic burial chamber in Europe (3000 BC), which predates the Egyptian Pyramids.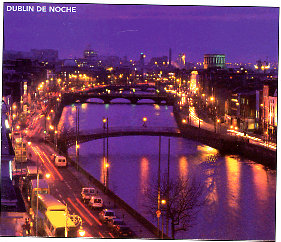 Descargar
| | |
| --- | --- |
| Enviado por: | Ferrán Morera |
| Idioma: | inglés |
| País: | España |
---